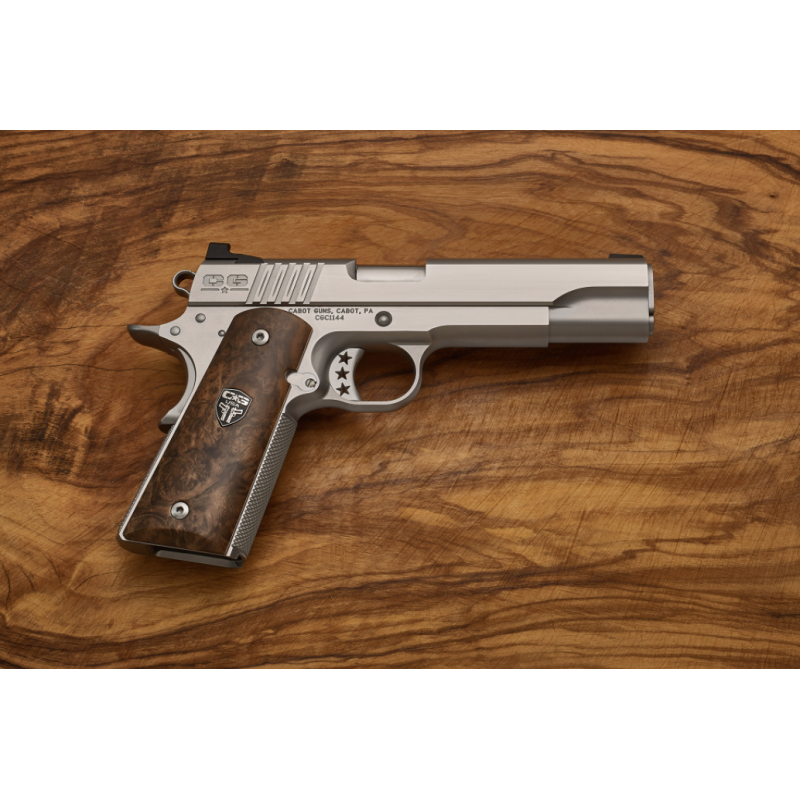  
Secure payment - 3 D Secure encrypted environment

Colissimo delivery - 48 hours
Cabot National Standard
Tax included
Livraison sous 8 jours
Cabot National Standard
Two words, one promise. National Standard. A pistol befitting its name: 100% all-American. A benchmark that sets the modern standard for an American classic.
Cabot's National Standard 1911 is our gauntlet for American quality, a challenge by which the industry will be measured.
Product customization
Don't forget to save your customization to be able to add to cart
Customize
arrow_drop_downOverview :
Share your customization with your firends
Cabot National Standard
World-class precision engineering, machining, and artisan craftsmanship are the beating heart of the National Standard 1911. Enshrined in our Made in America Manifesto, Cabot's commitment to define the industry's highest standards is why this icon is produced in the heartland of these United States.
The smooth lines and elegant curves are accentuated with subtle details that elevate the National Standard to benchmark status—featuring both precision machining and hand-worked artisan craftsmanship to stand head and shoulders above the competition.
The eye is drawn to our trademark Tristar trigger, one of many recognizable design elements that separate Cabot from the pack. Each star is precision-formed using CNC spark corrosion technology, notable for achieving tolerances finer than a fraction of the size of a human hair. The trigger is further refined with serrations along the front pad to improve tactile feel for the shooter.
Even the National Standard's slide serrations subtly reveal the level of care and quality lavished on this pistol. In between each serration is an additional micro-serration measuring a mere ten hairs wide, and from zero to three and a half hairs deep (and back again) from top to bottom. These markings are precision-ground into the slide, completing the National Standard's unique look and further exemplifying the quality and attention to detail that ships with each Cabot Guns pistol.
Cabot's new-for-2021 rear sight has been designed to balance defensive and range functionality with the refinement you've come to expect from Cabot. The .140″ wide U-Notch was selected specifically for quick target acquisition while creating a sight picture that perfectly cradles any of our dot, fiber, or bead front sights.
A heavy dehorn is applied to reduce potential snags and facilitate maximum carry comfort, without sacrificing the tactical advantages of its aggressive hook design. The rear-facing sight surface features 50 LPI checkering for glare reduction. The National Standard ships with luxurious walnut grips featuring an inlaid medallion, but a wide range of grip options are available to personalize your pistol.
Available in both Government and Commander sizes and chambered in either .45 ACP or 9mm Luger, these choices are just the start of how you can make the National Standard your own. Should you choose your National Standard in our carry Commander format, you will benefit from the unique full-cycle technology we engineered, which provides the full-size stroke of a Government model and does not compromise the shooting experience. Cabot guarantees the accuracy of all our pistols with shot groups better than 1.5 inch at 25 yards.
As deserving of a place on your mantle or at the range —the National Standard is a tool where state-of-the-art meets art.
Features
Modern 1911 styling, .45 ACP or 9 mm
Cabot Frame and Slide, From 416 Stainless Steel Billet
Proprietary Hardening
Hand Satin Polished Flats
5 in. or 4.25in Match Grade Barrel, Hand-Fit, Crown Cut, Flush Fit
Polished Feed Ramp
Cabot National Standard Slide Serrations
Top Slide Serrations
Lowered and Flared Ejection Port
Cabot Aluminum Tristar Trigger
Rhombus Cut Front Strap Checkering 24 LPI
Rhombus Checkered Billet Made Main Spring Housing
Cabot Machined-In-Place Perfect Fit Ejector
Cabot Billet One Piece Full Length Guide Rod
Billet Thumb Safety
Billet – Idiot Scratch Proof – Slide Stop
Billet Magazine Release
Billet Beaver Tail Grip Safety
Cabot 9-Axis Billet Constructed Barrel Bushing
Cabot Reverse Dovetail Front Sight – White Dot
Cabot Fixed Rear Sight
Optional Low Mount Adjustable Rear Sight, Black or Tritium Bar
Beveled Magazine Well
Smooth Figured Walnut Grips Standard
Optional Grips, Walnut Fibonacci, Checkered Walnut, or Desert Ironwood
Two 8 Round Magazines 45acp (9 Rounds for 9mm)
Cabot Bushing Wrench and Gun Lock
No customer reviews for the moment.