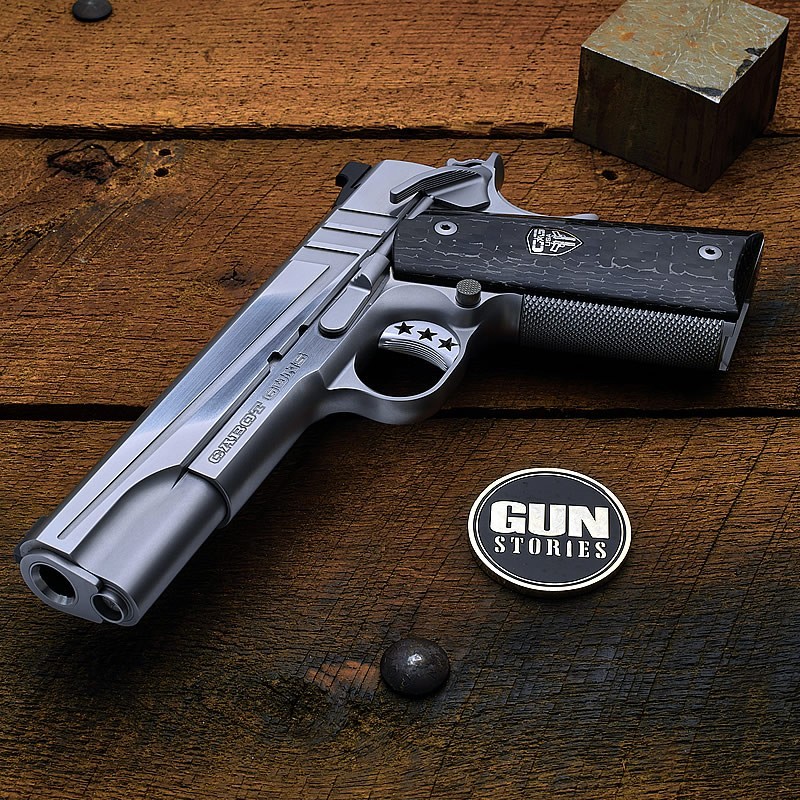  
Secure payment - 3 D Secure encrypted environment

Colissimo delivery - 48 hours
1911 Cabot Gran Torino SS Cal. 45 ACP 5"
Cabot Gran Torino SS
Cabot wanted to bring together 2 passions : the American Muscle Car and the 1911 custom ! Thus was born the fabulous Cabot Gran Torino pistol.
The Gran Torino gun is designed to shoot with extreme precision. Every Cabot gun is built to the highest aerospace standards.
His performances were featured on behalf of the company which is now recognized as a dominant force in domestic matches.
Product customization
Don't forget to save your customization to be able to add to cart
Customize
arrow_drop_downOverview :
Share your customization with your firends
Cabot Gran Torino SS
Is there a more iconic symbol of 20th Century American manufacturing than the Gran Torino ? If there is, it's the 1911 handgun. Four decades ago, both stood at the top of the mountain. The American Muscle Car and the custom 1911. Race car and race gun. The big block and carburetor, the single stack and hardball. Chrome and steel. Times have changed but these symbols endure. Cabot Guns melds these two classics into a single retro-themed handgun with the Gran Torino SS 1911.
Inspired by a one-of-a-kind custom project, the original Cabot Gran Torino 1911 was met by such enthusiasm by our customers that the decision was made to produce this new American classic, The Gran Torino SS . From muzzle to magazine well, this 1911 exudes speed, power and motion.
The Gran Torino SS is constructed completely from stainless steel, with the notable exception of the chatoyant carbon fiber grips. This exclusive material was crafted specifically for use on the Gran Torino SS and, like the metallic paint jobs of the 70s muscle cars, contains flakes of luminescent silver. As the gun moves, the light from the grip panels dazzles.
The vector-style racing stripes that graced the flanks of the classic automobile are milled into the handgun's slide as cocking serrations with the gun's flats hand-polished to a level of visual perfection that no machine can match. Like all Cabot Guns, the Grand Torino is built to exacting tolerances by some of America's most talented craftsmen. This full-size 1911 is available in the customer's choice of .45 ACP or 9x19mm with functional upgrades that maximize the best elements of the unsurpassed design.
The Gran Torino is designed to shoot the way that it looks, with performance that will turn heads. Every Cabot Gun is built with the precision and accuracy that has made the company's name a dominant force in national matches. The extended beavertail grip safety puts the gun high in the hand to control recoil and the safety is right where the subconscious mind wants it to be. The impeccably textured Rhombus front strap mainspring housing are inspired by automotive tire tread traction control design provides a solid grip surface. Every detail has been carefully considered.
Features
Modern 1911 styling, .45 ACP or 9 mm
Cabot Frame and Slide, From 416 Stainless Steel Billet
Proprietary Hardening
Hand Polished Flats to Jewlers Cloth Finish
5 in. Match Grade Barrel, Hand-Fit, Crown Cut, Flush Fit
Polished Feed Ramp
Racing Vector Slide Serrations
Top Slide Serrations
Lowered and Flared Ejection Port
Cabot Aluminum Tristar Trigger
Rhombus Cut Front Strap Checkering 24 LPI
Rhombus Checkered Billet Made Main Spring Housing
Cabot Machined-In-Place Perfect Fit Ejector
Cabot Billet One Piece Full Length Guide Rod
Billet Thumb Safety
Billet – Idiot Scratch Proof – Slide Stop
Billet Magazine Release
Billet Beaver Tail Grip Safety
Billet Barrel Bushing
Cabot Reverse Dovetail Front Sight
Low Mount Fixed Rear Sight, Black or Optional Tritium Bar
Optional Low Mount Adjustable Rear Sight, Black or Tritium Bar
Beveled Magazine Well
Chatoyant Carbon Fiber Grips with Inlaid Cabot Medallion
Reverse Crowned Barrel
Engraved Star at Front of Guide Rod
Two 8 Round Magazines
Cabot Bushing Wrench and Gun Lock
No customer reviews for the moment.