At a time when there are countless brands and models of manufacturers specializing in precision rifles for long range shooting, it is very difficult for us to tell them apart.
To find a precision rifle or rather "the rifle" for long range shooting that would suit us the most, we should consider:
The destination of use.
The manufacturing processes.
The gunsmith quality.
Characteristics and performance.
The potential of the rifle.
The potential of the shooter.
The evolution of the pair rifle / shooter.
The budget.
For those who are surprised that the budget comes last, we keep in mind that our article is written in the context of sport shooting, more specifically long range shooting, which is mostly a passion and not a necessity. It is up to everyone to define their degree of passion and therefore the expenses that they would be inclined to grant according to their desires and / or their means.
1.

The Destination of Use:
Just like cars for example, the destination of use must be the first determining criterion to orient us towards the different types that exist.
A motorist looking for thrills, will choose a sports car rather than a utility vehicle. In the field of precision rifles, we will distinguish 3 main types:
Hunting rifles.
Combat rifles (military use).
Sport shooting rifles.
In the same way that it is possible to get a speeding ticket with a utility vehicle, or to load boxes in a sports car, we can also do target marksmanship with a hunting or combat rifle where go hunting with our sport shooting rifle!
You will agree that this should occur only in very occasional situations.
2.

The Manufacturing Process:
There are basically 3 manufacturing processes.
So-called industrial or mass production: This process mainly concerns mass-produced weapons, without particularities in terms of finishes or without particular attention to details where the human hand intervenes as little as possible in the various stages of manufacturing.
Although guns must benefit from precise mechanics, mass production guns are known to have wider and less precise fit tolerances than custom guns.
Semi-Custom Manufacturing: This process involves assembling mass-produced parts and weapon elements, paying more attention to the adjustments and finishes. This is a qualitatively superior process but certainly more expensive than the previous one. Consequently, semi-custom production weapons will naturally be of better quality and more expensive than those produced in series.
Custom production: Here we are at the level of the most beautiful gunsmith productions that exist. This is a process where the weapon is produced exclusively on demand, with criteria defined from the start. It is generally in this range that we will find exceptional weapons that would not even be comparable with those produced in series.
3.

The gunsmith quality:
Whether the weapon is mass-produced or fully custom, gunsmith quality involves several criteria which will determine whether the weapon is of superior quality or not. Mass production weapons are not all the same quality, as are fully custom weapons. In contrast, the worst custom guns in their class are still of a much higher quality than the best mass production guns.
Gunsmithing quality essentially involves:
The materials used for the components of the weapon.
The quality and precision of the machining of the parts.
The quality and precision of the fitting and assembly.
The quality and refinement of the finish of the weapon.
These are the ingredients which will determine the aesthetic quality, the robustness, the precision, the reliability, and the durability of the weapon as well.
4.

Characteristics and performances:
Just as we don't expect the same performance from a utility vehicle as from a sports car, we can't expect the same attributes from a combat rifle as from a sport shooting rifle or a hunting rifle.
Despite the common core that we absolutely must find in any rifle, whatever its category,
The gunsmith quality
Reliability
Robustness
Accuracy
Durability
Specific characteristics per category:
The hunting rifle: Bolt action or semi-automatic depending on the type of hunting desired, it must above all be light, handy and offering calibers commonly available and used for hunting.
The combat rifle: for long range combat shooting we find both semi-auto rifles and bolt-action rifles. Regardless of the type, a rifle intended for long range combat shooting must be precise, light but robust, compact, easily transportable, equipped with an interface that can accommodate accessories and equipment reserved for military use. It must also be able to withstand environments hostile to the operation of the weapon, mud, sand, dust, snow etc.
The sporting rifle : This is where it gets interesting to draw the parallel between a rifle intended for long range combat shooting and one intended for precision sport shooting. Indeed, we will see that what would be an advantage for one will be translated into a disadvantage for the other:First, let's talk about weight, the rifle intended for combat must be as light as possible to facilitate transport and carry over long distances. However, for the precision rifle intended for sport shooting, it is recommended to use, for the manufacture of the receivers, materials made essentially of steel or in the absence of heavy alloys to limit the phenomena of parasitic vibrations having a harmful effect on the precision.It is the same for the barrels, those used for the sport shooting precision rifles are for the most part heavy match grade barrels, selected for their extreme precision but they would be much too heavy for military use.On the trigger side, the sports shooter will ideally prefer a trigger offering the lightest pull weight possible, the goal being to be surprised by the shot to get closer to extreme precision. A totally unthinkable configuration for a soldier who is looking for a trigger to execute command shots, but above all who would avoid any accidental shooting because of a too light pull weight …
5.

The Potential of the Rifle:
Whatever the category of the rifle, it can be designed from the start for a given level of use, beginner, intermediate, expert.
We must be particularly careful to this criterion because a novice shooter or hunter who acquires experience and gains in shooting skills will at some point be hampered by the capacity of the rifle he chose.
It would be like giving a Formula 1 driver a go-kart and asking him to win the championship with it.
6.

The Potential of the Shooter:
Just as a novice shooter will not be able to fully exploit the performance of a top-ranking rifle, an expert shooter will not be able to perform miracles with a poor quality or limited performance rifle.
7.

The evolution of the pair, Rifle / Shooter:
As for the two previous points, it is very important to know how to determine your own skills as well as the evolution or the objectives that we set for ourselves about it. An intermediate level sports shooter who wishes to progress to an expert level and participate in long range shooting competitions should be particularly careful in his choice of rifle. Is it better to buy an intermediate rifle that it will have to change as it evolves in order anyway to end up buying at some point a top ranking rifle allowing it to reach the highest levels of precision, or Would it be better to immediately acquire a rifle which will exceed his expectations as an intermediate level sports shooter but which will also be able to accompany him when he has reached the peak of his performance?
8.

The budget:
There is no such thing as a miracle in the field of armaments, at least no more than in any other field. In short, Quality pays off.
Yes, not only, but brands also charge just for their name. So, if you pay and without compromising on quality, you might as well buy a rifle that exactly meets your needs.

Barrett, rifles originally intended for combat, such as
Barrett M82A1 from € 13,750, chambered in 12.7x99.
Barrett 98B Tactical, from € 6,650, caliber 308 Win.
Barrett Mrad, from € 8,900, caliber 338 Lapua Magnum.
Barrett Mod 99, from € 6,900, caliber 416 (12.7x99).
Barrett has recently expanded its range by offering now also hunting rifles, the Fieldcraft Ultralight available from 2450 €, in caliber 30.06, 308 Win, 6.5 Creedmoor, or 6.5 x55 Swedish.
Barrett rifles are renowned for their exceptional quality and durability, but unfortunately their preferred destination is not yet sport shooting.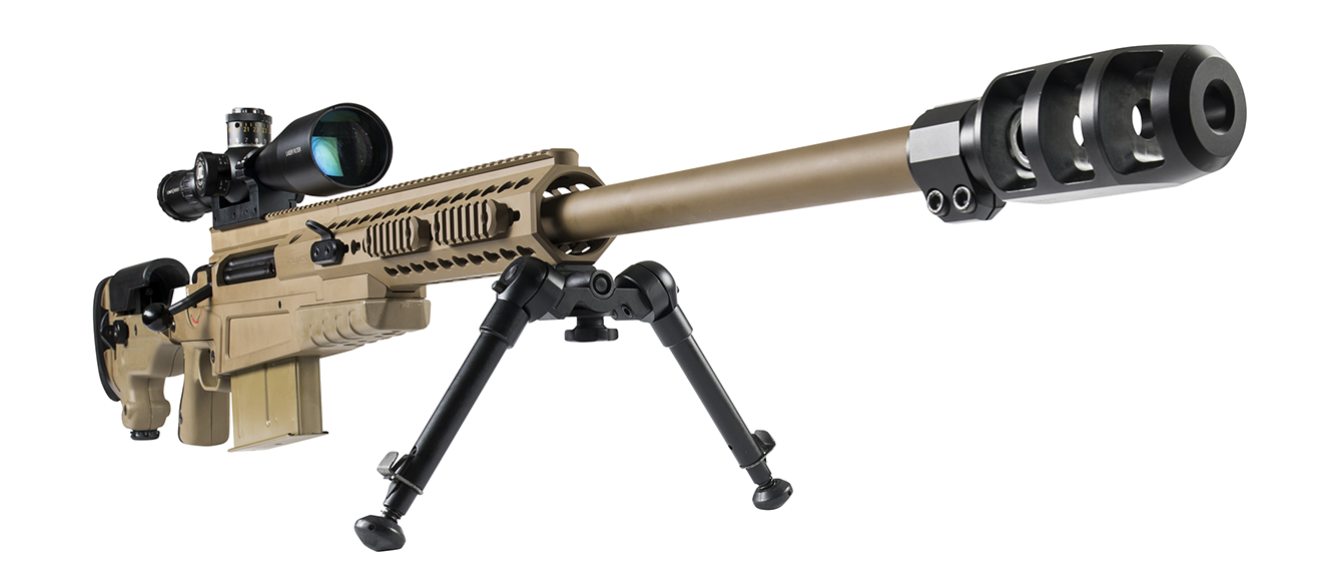 Accuracy International, the name that makes all shooters fantasize, whether they are beginners or experts. Who among us has not dreamed of acquiring an "Accuracy"?
Yet Accuracy International makes it known from the first page of its website that its precision rifles are intended for military use. Despite the compatibility of some of them for sport shooting, its range is firmly oriented towards combat rifles.
AXMC available in 338 Lapua Magnum from € 8,490, in 300 Win Mag or in 308 Win, The AXMKIII from € 8,775, available in caliber 308 Win, 6.5 Creedmoor, 300 Win Magnum or 338 Lapua Magnum.
The AX308 from € 5,760, the evolution of the AW308 chambered in 308 Win.
The AT308 from 4670 €, short action in caliber 308 Win.
And for fans of exotic calibers,
The AX50 from € 10,140, caliber .50 BMG, and heir to the legend of combat rifles, the AW50.

On the Finnish side, we find the legendary Sako, which has been owned by the Beretta family group since the turn of the millennium, a whole story that has lasted for precisely 100 years. From combat to hunting rifles Sako holds the all-time record for the best-selling bolt-action rifle in the world, the Tikka T3 sold over one million units in 2020.
So, even in mass production you can find success with a rifle of good gunsmith quality, sold at a very fair price. Indeed, the Tikka T3 is a versatile bolt action rifle, which works very well, and whose precision and performance are quite respectable for the price. While it is not intended for expert sports shooters looking for extreme precision, it will satisfy many beginners and intermediate shooters.
Sako TRG M10, from € 13,779, caliber 308 Win or 338 Lapua Magnum.
Sako TRG 42 A1, from € 9,439, caliber 308 Win, 300 Win Mag, 338 Lapua Magnum.
Sako TRG 22 A1, from € 8479, caliber 6.5 Creedmoor, 308 Win.

We must not forget a country known for the quality of its weapons, Austria. Country where two world-renowned rifle manufacturers nestle,
Ritter & Stark, one of the few manufacturers to have designed from the start rifles intended for sporting long range shooting. No wonder its rifles are so popular with shooters and especially high-level ones since its rifles are designed by sports shooters and for sports shooters.
Ritter & Stark SLX-1, from € 3,990, caliber 308 Win.
Ritter & Stark SX-1, from € 5,999, caliber 308 Win.
Ritter & Stark SX-1, from € 6,999, caliber 300 Win Mag.
Ritter & Stark SX-1, from € 7469, caliber 338 Lapua Magnum.

Steyr Manlicher, Steyr Manlicher, one of the oldest manufacturers whose reputation is well established. From 1864 until today, Steyr has provided countless law enforcement and armies with both handguns and rifles.
SSG08, from € 6,990, caliber 308 Win.
SSG08, from € 7,699, caliber 300 Win Mag.
SSG08, from € 8,200, caliber 338 Lapua Magnum.
SSGM1, from € 11,999, caliber 338 Lapua Magnum.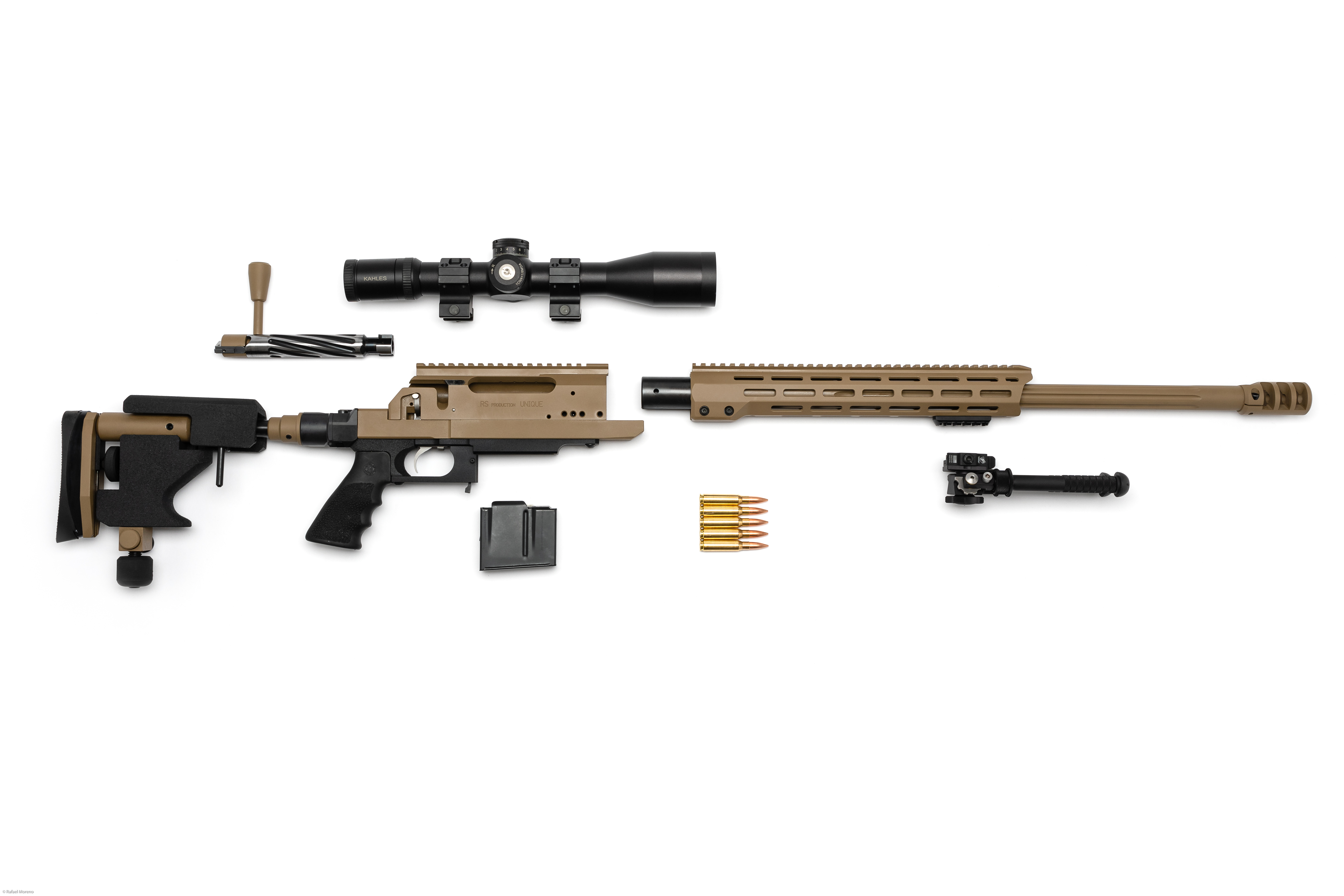 In our roundup, we've saved the best for last, Legacy Armament.
A manufacturer with sporty colors, since it does not offer any weapon in its range that is suitable for hunting or combat.
The primary vocation of Legacy Armament is 100% Custom made firearms. A range of precision bolt-action rifles for long range shooting, but not only, but it also offers in its catalog 100% custom handguns, AR15 and AR9 rifles dedicated to various sports shooting disciplines such as 3 guns or IPSC.
The first to arrive in Europe in November will be precision rifles with a range designed to satisfy even the most demanding shooters since they are offered exclusively on fully modular and Multi Calibers platforms, compact to XXL, as well as a wide choice of calibers, barrel lengths stamped Lothar Walther Match Grade as standard, fitted with Timney 2 Stage trigger as standard, or Jewell and Triggertech 2 stage optional, fully adjustable sniper stock, foldable as standard on the Pro range, M-Lock tactical handguard and piccatinny rails as standard for optical mounts and bipods, Cerakote finish as standard on the pro range. In short, the list could be as long as this article.
Legacy Sporter, from € 4,789, available calibers, 30-06, 6 and 6.5 Creedmoor, 243 Win, 308 Win, 6 MM Lapua BR, 7.08 Rem, 7 Rem Mag, 300 Win Mag and 338 Lapua Magnum.
Legacy Officer, classified 'B' in France, from € 5369, caliber 308 Win, it also exists in a "Silenced" version.
Legacy Commander, from € 5869, caliber 308 Win.
Legacy Commander Pro, from € 7189, caliber 308 Win, 6.5 Creedmoor.
Legacy Sniper, from € 6,589,

available calibers, 30-06, 6 and 6.5 Creedmoor, 243 Win, 308 Win, 6 MM Lapua BR, 7.08 Rem, 7 Rem Mag, 300 Win Mag and 338 Lapua Magnum.
Legacy Sniper Pro, from € 7989, available calibers, 30-06, 6 and 6.5 Creedmoor, 243 Win, 308 Win, 6 MM Lapua BR, 7.08 Rem, 7 Rem Mag, 300 Win Mag and 338 Lapua Magnum.
And the icing on the cake
Legacy OAK, one of a kind, from € 14989, 100% personalized, from the serial number through the caliber, the type of desired trigger, or the barrel length, without forgetting of course a 100% finish to your colors according to the theme of your choice, including engraving, laser and Cerakote.
Could this be the first rifle in Europe with a real 100% custom made right out of the workshop?
The manufacturer even goes so far as to place in the fiberglass case in which the rifle is delivered, an engraved plaque bearing the name of the lucky owner as well as the model, caliber, and serial number of the rifle. naturally with the words 'Lifetime Warranty' on the back.
And as if the range of precision bolt action rifles for long range shooting of Legacy Armament was not enough to seduce the first customers in Europe, The manufacturer promises, within available stocks, a never-seen before launch offer, including for each of the rifles purchased regardless of the model chosen or the options chosen, a combo at 2200 €, including a riflescope of your choice from the prestigious Kahles brand, the K312i, or the K624I or the K1050, a Spuhr scope mount, and the latest generation bipod from Accu-Tac .